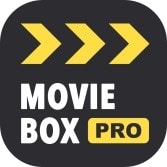 THE BEST APP TO WATCH MOVIES & TV SHOWS ON MOBILE!
MovieBox Pro is new video streaming application, populating among smartphone users all around the world nowadays. It is the best app to watch and download movies and TV shows on mobile devices.
There are over 100,000 of movies and TV series can access with MovieBox Pro for Free. It updates daily with the latest movies, TV episodes and offers high-speed download and playback without waiting.
MovieBox Pro download available for your Smartphone,  TV and Computer for FREE.
MovieBox Pro Features
Watch latest movies / TV shows without payment
More than 1000000 movies and TV shows
Daily updating content (movies & series) and regularly updating the application
High-speed download, no waiting (use Global high-speed CDN network)
No regional restrictions. You can watch / download movies anywhere in the world
Uses H265 latest encoding technology for compact size with higher definition
Multi-language subtitle support with speed adjustment and sharing
Can create movie list & share your movie list
Universal compatibility. Support iOS, Android, Apple TV, Smart TV, PC, Mac
Aggressive designed (UI) – Modern & Users friendly
VIP version available with ultimate features for pro users 
No jailbreak, No Apple ID, No root access need
MovieBox Pro download for iOS / Android / PC / TV
MovieBox Pro supports most of the devices running different operating systems such as iOS / iPadOS, Android, Windows, macOS and Apple tvOS. You can download MovieBox Pro app on iPhone, iPad, Android phone, AppleTV, Android TV, PC or Mac for free.
Navigate through your device category, you will find all the required information and guides there..
Choose Your Device To Download
MovieBox Pro for iPhone / iPad
Apple iPhone and iPad users can download and install MovieBox Pro app with and without having Jailbreak your device for free.
There are several methods to install this app on iOS / iPadOS online or offline. Safari users are able to get the MovieBox app online. Also, you can side-load the app using computer without jailbreak.


MovieBox Pro iOS / iPadOS
MovieBox Pro for Android 
MovieBox Pro support any smartphone or tab running Android 6+ versions.
MovieBox Pro official app not in Google Play, so you may have to download and install the APK for your Android. Follow the below link to download the official latest version of MovieBox Pro APK for your device.



MovieBox Pro APK
MovieBox Pro for macOS
You can download and install dedicated version of MovieBox Pro app on any macOS running devices such as MacBook Pro, MacBook Air, iMac, iMac mini, Mac Pro, Mac Mini. Before installing the app, check that your Mac is running macOS 10.15 or higher.


MovieBox Pro macOS
MovieBox Pro for Windows (PC / Laptop)
MovieBox Pro Windows version is also now available to download for your computer. So, you can install the app directly on any Windows PC or Laptop. This method allows you to use MovieBox on PC with its full features.


MovieBox Pro Windows
MovieBox Pro for AppleTV
The latest release of the MovieBox Pro supports download the app on AppleTV devices. It needs tvOS 13 and later version running TV models to install. 


MovieBox Pro AppleTV
MovieBox Pro for Android TV
Dedicated Android TV version of MovieBox Pro available for you. Can download (apk) and install on Android powered TV device of any brand / model. No need root access


MovieBox Pro Android TV
You can easily install MovieBox Pro for free for your device using above links. This application is copyright by Rounding Squares. If any error regarding the application, please email to them. They have already nearly 5 star rating from users. After installation, Please review with positive feedback. This will give another MovieBox app for You.
Note: You need to sign-in with your Google account to watch/download movies. If you newcomer, the app may asks you to enter the "Invitation code" to proceed. Follow this to get the invitation code for your email.
First, send a message to [email protected] asking "Invitation code" for MovieBox PRO new user.
Second, all users need to wait until the invitation code receive your email (Perhaps this process will take a few hours/days)
Third, enter invite code in your installed application. If you are not installed MovieBox Pro application earlier, follow the generated link to install the application.
Follow the above steps for all iOS & Android users. Any matter please comment or message to us.
Best MovieBox Pro Alternative for you
Still unable to install MovieBox Pro? It doesn't matter, there is a better solution for you. We strongly recommend downloading MediaBox HD app for iOS and Android. This is the best ever MovieBox alternative at the time. You can use MediaBox HD app without "Invitation Code", Apple ID, email, password, jailbreak or root access for FREE. All movies/TV shows are available to watch and download in HD format without any limitations.
You can use these applications as MovieBox Pro alternative apps. All of the above-mentioned applications can install for your device without any error. The user needs to verify each application after the installation completed.