Your favorite entertaining app, Movie Box now fully compatible with iOS 13. It's official latest version, MovieBox Pro 5.6 smoothly work on iOS 13 (iOS 13, iOS 13.1, iOS 13.1.1, iOS 13.1.2, iOS 13.1.3, iOS 13.2, iOS 13.2.1, iOS 13.2.2, iOS 13.3 beta2) running iPhone / iPod devices and iPadOS 13 running iPad devices.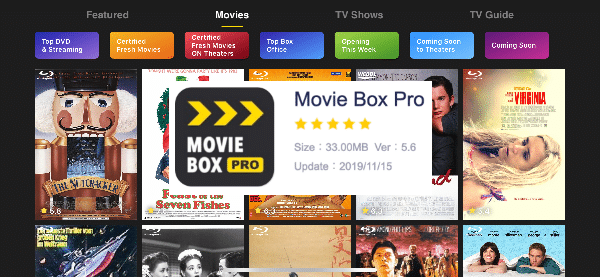 Movie Box for iOS 13 / iPadOS 13 compatible devices
iPhone 6S, iPhone 6S Plus, iPhone SE, iPhone 7, iPhone 7 Plus, iPhone 8, iPhone 8 Plus, iPhone X, iPhone XS, iPhone XS Max, iPhone XR, iPhone 11, iPhone 11 Pro, iPhone 11 Pro Max
iPod Touch (7th generation)
iPad Air 2, iPad Air (3rd generation), iPad (5th generation), iPad (6th generation), iPad (7th generation), iPad Mini 4, iPad Mini (5th generation), iPad Pro (all models)
Download Movie Box Pro latest version on iPhone, iPad, iPod
Version : 5.6
Size : 26.3 MB
Update : 15.11.2019
Update Log
V 5.6 (2019.11.15)
Fix search bug
Fix some small bugs on iOS 13
V 5.4, 5.5 (2019.11.14)
Sorting feature added to favorite
Optimized favorite, search, download and other interfaces.
Add tips to unreleased TVs or movies for easy access to your favorite.
Fix some bugs.
V 5.3 (2019.10.14)
Optimize the UI
Fix the wrong position of chromecast control
Fix the download issue in background on iOS13
Fix other bugs
V 5.1, 5.2 (2019.10.10)
Optimize interface
Movielist add film festival,special list and ranking list.
Support for uploading custom covers in Movielist.