You can download MovieBox application with App store based application called "Enjoy Sweet Dreams" application. This is app store approved application, this most recent application can use as MovieBox with your Apple device. Why MovieBox development team changed applications ? Because of Apple restrictions, These restrictions will cause to remove apps from Apple app store. However you can use this application to install latest MovieBox or MovieBox Pro application. This installation method is also similar to the previous Attractive Places, SReader installation.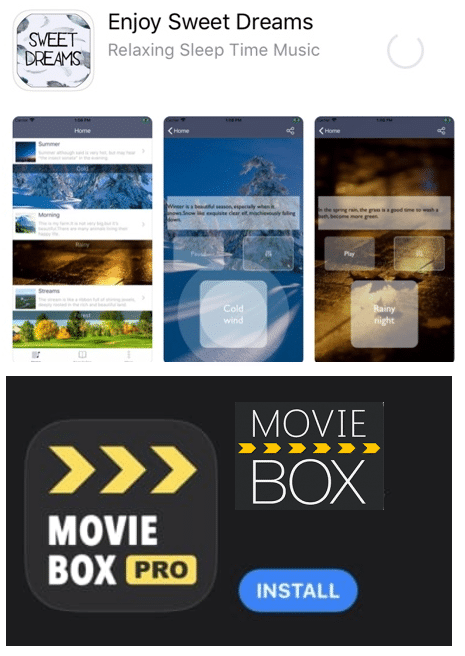 Features & requirements – Enjoy Sweet Dreams installation
You can install without Apple ID
Install app without Verify
Secure app store installation method for users
Application is running properly Ios 7+ running devices
How to install MovieBox with Enjoy Sweet Dreams
First all users need to download Enjoy Sweet Dreams application with App store for your iDevice
Then open moviebox.online – MovieBox Download> Tap download > Tap Ios Download > Tap "Download on the App Store "
Now you need to open "Enjoy Sweet Dreams" application
Please tap Upper right hand "+" sign > Tap "Choose Sound" or "Choose Image"
Now tap Google Drive > Enter your Gmail account(If this is your first MovieBox installation, Please get invitation code before install with our direct download link).
Finally MovieBox will with your device home screen after few seconds
Disadvantage of use of Enjoy Sweet Dreams
This application will reject from Apple app store because of their rules. However MovieBox development team is willing to give best solution for their Ios users. Please follow alternative applications if you are unable to install Enjoy Sweet Dreams application.
Apple users can download MovieBox without jailbreaking with this method. So this will not cause with Apple warranty. Application installation/un-installation method is easy for you. If any error happened with "Enjoy Sweet Dreams" MovieBox installation, Please comment to us..