Daily family Meetings Record is a App store application which can use to install new MovieBox/MovieBox Pro application for your device. You can follow this method to install MovieBox properly to your device. This application, Google drive can use access MovieBox Pro Gmail account. This is added advantage for users to login your new MovieBox application.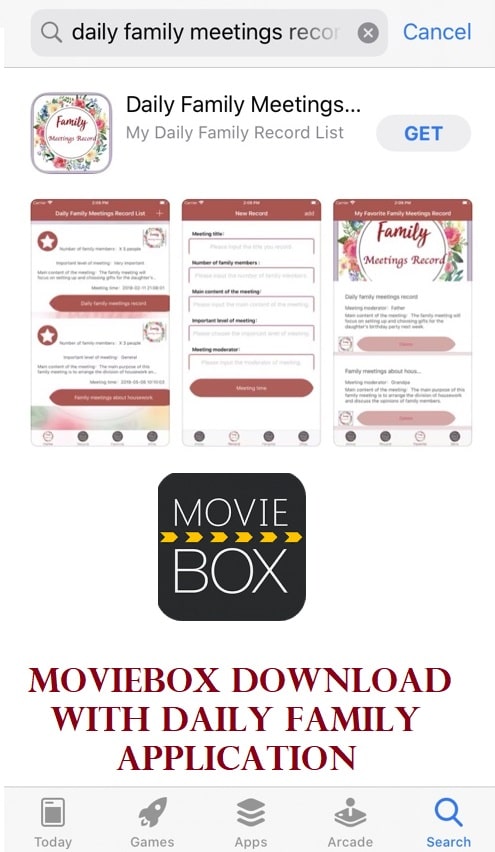 Requirements & Features of App Store installation
This is App store based recommended application for users
Can install without jailbreaking
No Revoke/No PC stable solution for users
Install without Apple ID, Free for basic version.
This is only support for iOS 7+ running devices. So if you are lower version, Please update device to latest iOS version.
How to install MovieBox/MovieBox Pro application with Daily family Meetings Record
First all users need to install Daily family Meetings Record application with Apple app store.
Then follow our download page to install latest MovieBox/MovieBox Pro application – Click Here Download
Tap MovieBox Pro App store download Apple logo icon > Then open Daily family Meetings Record application
Then Plus sign in the right upper corner > Then tap Plus sign in the below > Now select Google Drive
This stage you need to access with Gmail account information (login name & password). — If you are new user, Enter invitation code to activate account. Otherwise you are unable to install latest MovieBox application.
Then you can see MovieBox app is ready with Daily Family meeting Record application.
Now you can enjoy this new MovieBox Pro application features.
Now you can enjoy this new MovieBox Pro application features
Note – This process is only available for iOS users. Android users can follow direct APK installation link for their devices. MovieBox & Daily family application is same & when you tap record app > MovieBox/MovieBox Pro will open with your device.
Conclusion
Application installation require App store Daily family Meetings Record application. This method will provide stable MovieBox Pro application for iOS users. Perhaps our previous installation methods will not function properly because of the Apple update. So Please follow this new method to install MovieBox application.